POWERFUL 13.2 CHANNEL HOME THEATER EXPERIENCE
The AVR-X8500H ushers in a leading-edge home theater experience with 13.2 channels that support the latest surround sound formats and 4K Ultra HD picture.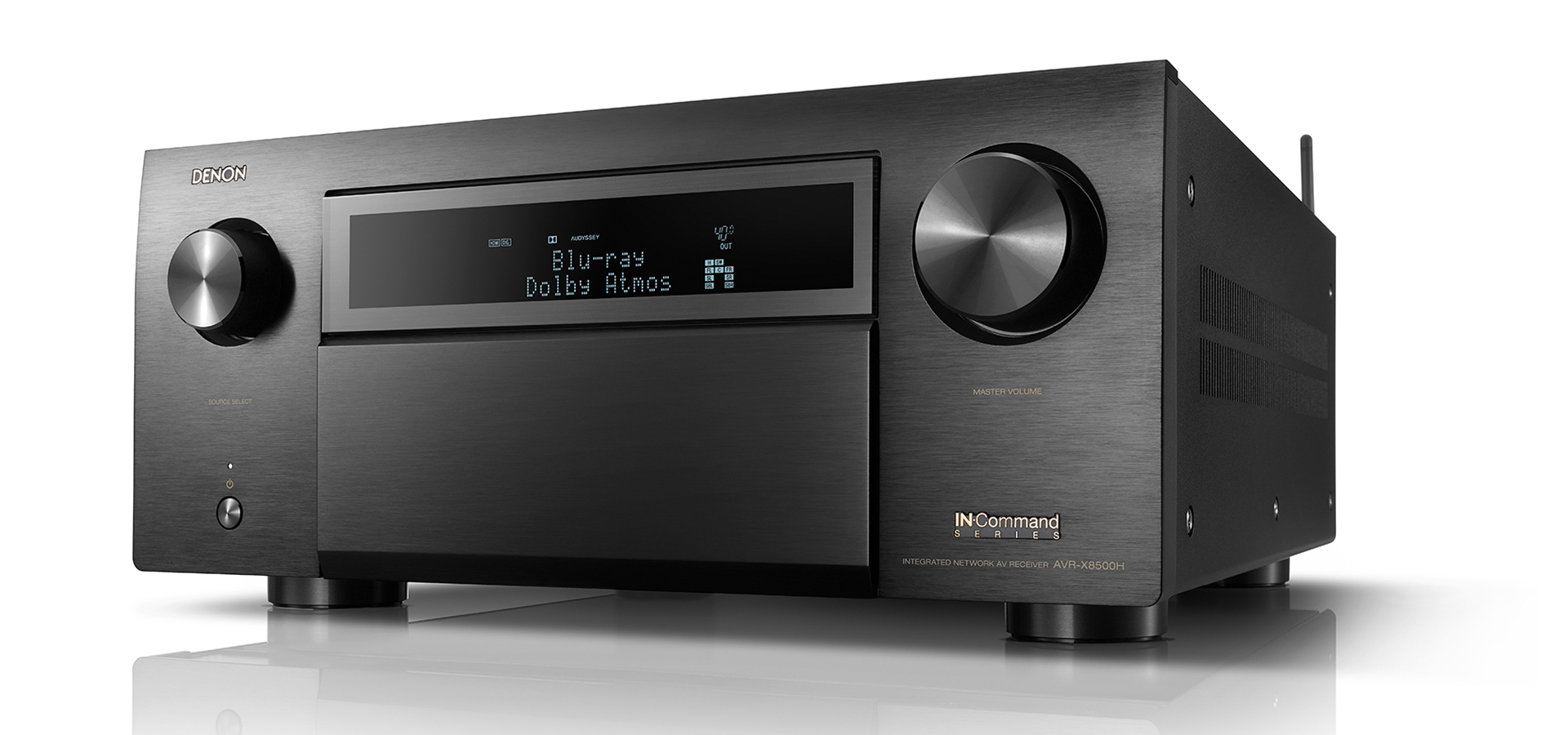 SUPPORTS THE LATEST SUROUND AUDIO FORMATS
Immerse yourself in multi-dimensional sound — the Denon AVR-X8500H powers Dolby Atmos, DTS:X and Auro-3D formats. Auro-3D will be enabled via future firmware update at no additional charge.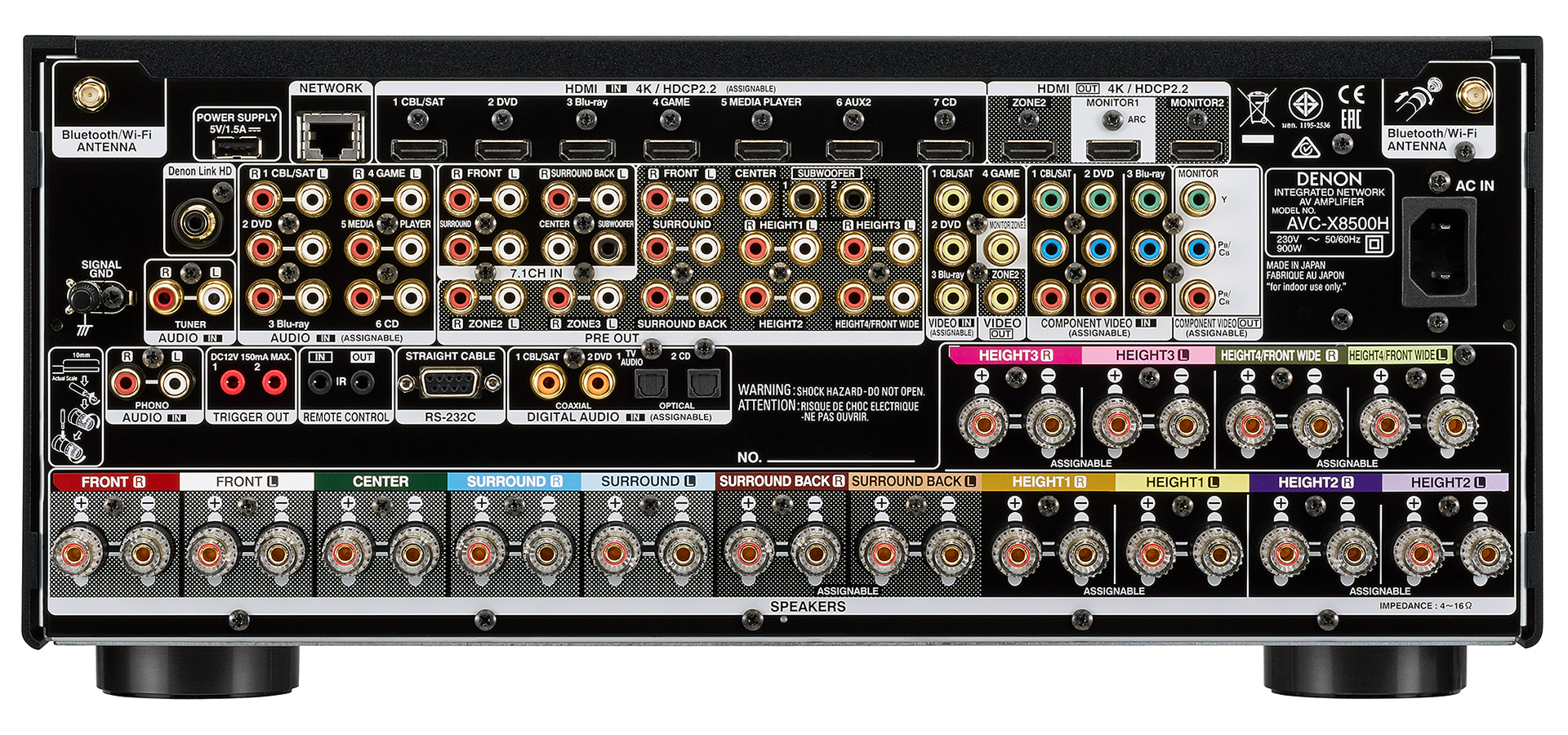 READY FOR THE FUTURE OF HOME THEATER
The AVR-X8500H's advanced video section is fully compatible with the latest HDMI and HDCP 2.2 specifications and prepared for any 4K Ultra HD source. High Dynamic Range (HDR), Dolby Vision compatibility, Hybrid Log Gamma (HLG) and eARC (enhanced Audio Return Channel) are supported as well. You can also enjoy ultra-high-definition pictures from legacy analog and digital sources.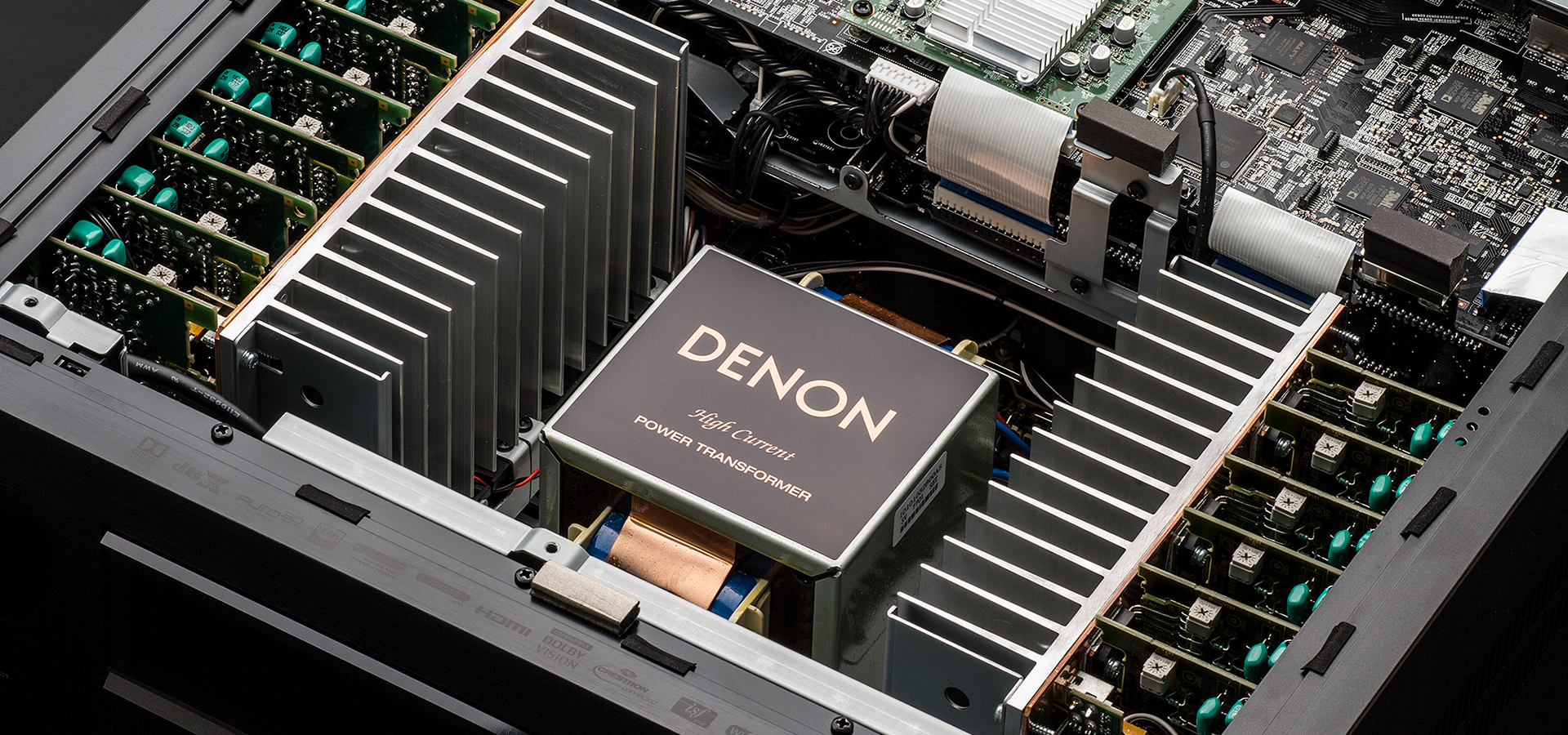 THE HEART OF YOUR WIRELESS NETWORK
Every sound, all your music, controlled effortlessly. Full wireless connectivity is provided via Bluetooth and Wi-Fi. The AVR-X8500H works with Apple Airplay and Amazon Alexa, bringing cutting-edge voice control and incredible sound to all your home entertainment. The built-in HEOS technology allows the AVR-X8500H to become the app-controlled heart of a whole-house wireless sound network.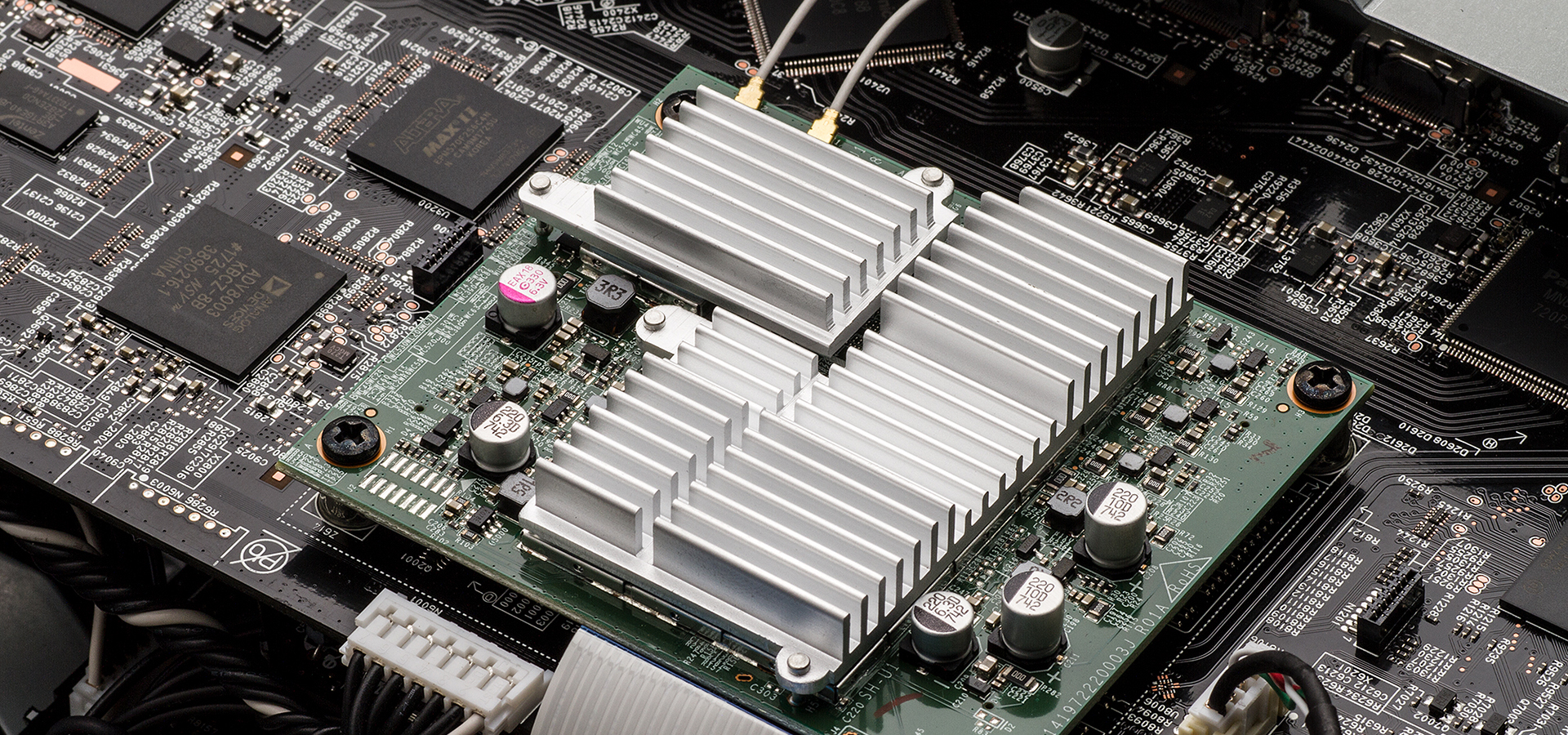 BLOCKBUSTING 3D-SOUND
Surround yourself in cinema-grade sound from literally any direction.
DOLBY ATMOS
DTS:X
AURO-3D
SOUND IN THE RIGHT PLACE

Immerse yourself in multi-dimensional audio with Dolby Atmos. Enjoy a 7.1.6 or 9.1.4 surround sound speaker system with as many as 6 overhead speakers or Dolby Atmos elevation speakers for the ultimate home theater experience.
GEARED UP FOR 4K ULTRA HD
Enjoy ultra-high-definition pictures, even from analog and digital SD sources.
LATEST HDMI SPECS WITH EARC
ADVANCED VIDEO SECTION
HDR / DOLBY VISION
FUTUREPROOF IN ANY WAY

All eight HDMI inputs (including one on the front) and three HDMI outputs feature HDCP 2.2 compatibility and the latest HDMI specifications, including 4K Ultra HD 60Hz video, 4:4:4 Pure Color sub-sampling, High Dynamic Range (HDR) and 21:9 video, 3D, and BT.2020 pass-through support. It is even ready for Enhanced Audio Return Channel (eARC) for 3D audio playback through TV apps. The feature will be enabled via a future firmware update.
SET-UP AND CONNECT WITH EASE
Get your AVR-X8500H up and running in no time, perfectly tailored to your needs.
SMART TV
AUDYSSEY MULTEQ XT32
CONNECTIVITY
DENON + HEOS APP
QUICK SELECT
SMART TV CONNECTIVITY

Control your Denon AVR-X8500H with your Smart TV remote via the HDMI CEC functionality associated with your Smart TV. Simply set "HDMI Control" to ON in your receiver, then set "Smart Menu" to ON and begin controlling the AVR-X8500H with your TV remote. The Smart Menu home screen provides you quick access to source and surround mode selections, the AVR's setup menu and four Smart Selects.
ADVANCED SOUND PROCESSING
Experience extraordinary sound quality from both music and movies.
DSP
HIGH RESOLUTION AUDIO
AL32 PROCESSING
32-BIT D/A CONVERSION
POWERFUL DSP AUDIO PROCESSING

The AVR-X8500H owns a sophisticated DSP audio processing system that incorporates no less than four powerful high speed fourth generation SHARC DSP processors, which together have a combined continuous processing capability of 10 GFLOPS (10 billion floating point numerical computations per second).
GET THE AMAZING
HEOS EXPERIENCE
Enjoy your favorite music from anywhere and everywhere around your home. Share music stored on your home network, streaming services with HEOS wireless speakers or even other HEOS-capable receivers and listen throughout the whole house. Control it all with the free HEOS app. Enjoy music from TuneIn, Internet Radio and a wide range of streaming services including Pandora®, Spotify®, Amazon Prime Music, iHeartRadio, SiriusXM, Soundcloud®, Tidal, Napster or Deezer.
SELECT THE PERFECT HEOS FOR YOUR SETUP
HEOS technology within the AVR-X8500H allows you to stream your favorite music wirelessly around your home to any other HEOS-enabled device, like HEOS speakers.
Bathroom
Bedroom
Kitchen
Livingroom
HEOS 7:Get the party going in wider spaces and open areas.
EXTERNAL CONTROL AND IP CONTROL CAPABILITIES
The AVR-X8500H is part of Denon's range of IN·Command series of custom integration friendly AV components, equipped with feature-rich enhanced control capabilities and compatibility with third-party and custom integration solutions.
The AVR-X8500H features IP control capability for an integration with major third-party control devices and Control4 SDDP (Simple Device Detection Protocol) certification for quick and easy integration with Control4 home automation equipment. For direct connection to external home automation and control equipment, it's also equipped with an RS-232C serial port.
For simpler integrated control set-ups, the AVR-X8500H features an IR (infrared) remote control input on the rear panel, allowing remote control compatibility with other components in your home theater system.